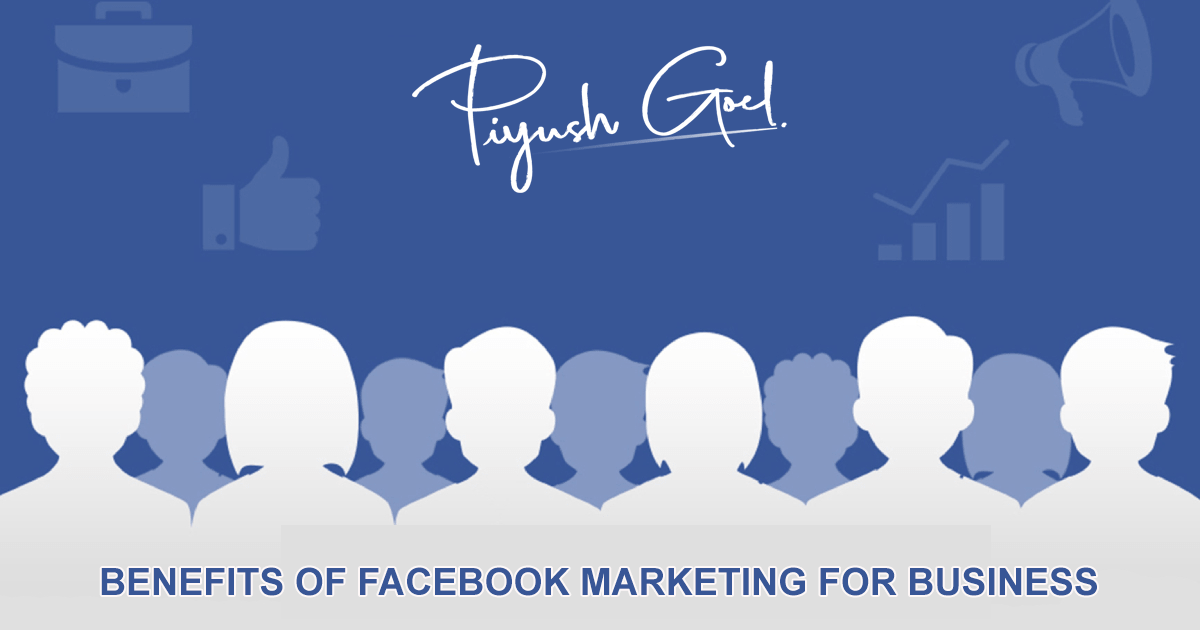 Facebook started its journey as a simple networking platform to help you connect with your family and friends. But over a period of time, Facebook marketing has emerged as an effective medium for marketing and promoting brands and businesses.

Undoubtedly, whether it is an individual user or a brand marketer, we all understand the importance of Facebook marketing in growing our businesses.

How did Facebook become such a valuable marketing tool?
For marketing a brand, all marketer need is a huge customer base and means to identify and engage with potential customers. The way Facebook started to connect individuals with ideas; it quickly became an important marketing platform.

To appreciate the benefits of Facebook marketing for business, let's take a look at the top most benefits that make it stand out as a marketing platform for businesses around the world.

• Leader of Social Media
With immense exposure on a global scale, Facebook is undoubtedly the big daddy of social media. Its active daily user count clearly shows its popularity among all age groups.

With a massive database of users from around the world, Facebook marketing campaigns can be designed to target users with particular demographics selected by the advertiser.

• Low Marketing Expenses
Even if you do not have a website, you can start with a Facebook page. A Facebook page can be created free of cost, and any content can be uploaded on this page. Thus, it is convenient for a small business to display its products and services at virtually no cost.

• Targets Potential Customer Base
With a unique facility of targeting customers as per demographics and interests, Facebook marketing is undoubtedly a useful tool to reach your preferred audience throughout the globe.

For example, to advertise for the fashion jewellery brand, one may target women, aged 20 to 45 with interest in shopping and fashion or jewellery. You may also choose the visibility of the ad to be set to any specific area such as metro cities.

Facebook also allows for retargeting visitors who had earlier visited the site. Apart from posting any message or picture or video for your audience, a brand can choose the time and frequency of the ad. But remember, if your audience like it short, do keep your posts and visuals short!

• Builds Brand Loyalty
Quick customer interaction results in effective customer support which promotes brand trustworthiness. These loyal and happy customers are indirect brand ambassadors. Apart from that, Facebook marketing helps in building your database, blog traffic and opens up a whole new arena to expand your brand reach.

Any engagement on your post or page in the form of likes or comments leads to a strong connection with your prospects.

• Facilitates Web Traffic Upsurge
Either through posts or campaigns, the Facebook audience can be guided to your website. These voluntary visitors will be more receptive and engaging. Once on your landing page, you may pitch them for more direct marketing by asking them to view, subscribe or any other call to action.

However, Facebook plans to put an algorithm that may affect the website funnelling.

• Facebook Metrics and Measures
Facebook offers a lot of useful information from its insights page, such as page likes, post reach, post engagement etc. With the help of this information, a brand can manage their ads accordingly.

Facebook Adverts Manager also tracks a range of performance metrics such as the reach of your ad, number of times visitors visited your ad, number of times the ad was shown etc.

Being a social channel, Facebook helps you connect with similar brands and build communities. Thus, helping you to view what your competitor is doing. With access to the information about your competitors, you can streamline your marketing efforts to bear better results.

What's in it for you as a Business?
Facebook Advertising is a powerful tool! If you are new to the advertising world or are simply looking for a convenient way to incorporate social media advertising into your marketing plan, then give Facebook ads a shot. These ads include a content copy with click-through links directing visitors to your business website or app.

Simply put, if you are looking for a way to increase your brand popularity and engagement, then Facebook marketing is the way to go!