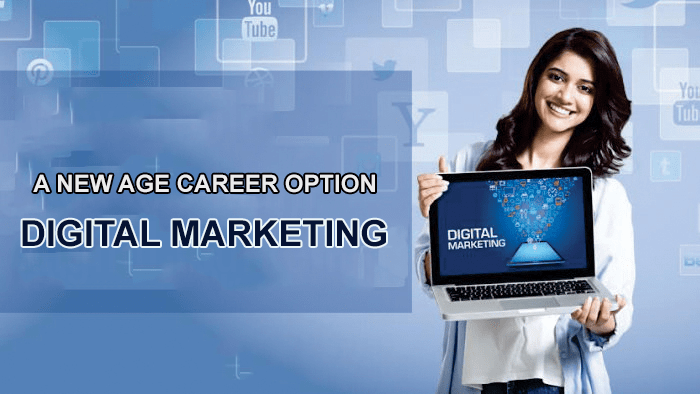 When we think about making a career, we think about being a doctor, engineer, etc. But from the last few years, a name came under the spotlight. Yes, you are right, I am talking about digital marketing. Digital marketing as a rewarding career option has been proved more beneficial in many ways compared to other career options. But if you don't know about it, then I understand your mind has zillions of questions like:

• Is it beneficial to learn digital marketing?
• Is it a great choice?
• Can I opt digital marketing as a career option? And on and on.

Through this blog, I will try to clear your doubts about digital marketing and try to give you a fresh perspective about it.

With years of experience in digital marketing, I can tell you that the digital marketing industry is the fastest growing industry. And the most amazing thing about this industry is that it doesn't care at what age you are learning? or are you from a technical background or not? etc. Digital marketing is for all and anyone can learn it at any time and in any age.

You can learn digital marketing even at the comfort of your home. The online course of digital marketing is provided by many institutes. Now moving on let's see why you need to see digital marketing as a career option.

• Be your boss
Ok, I personally never liked to work under someone. I always want to work on my own and be my own boss. Digital marketing provides you a platform or you can say an opportunity to become a freelancer. Yes! You can sit and work from home and still earn more than your hard-working friends who do daily up down to their office.

• Always be in demand
As the digital marketing industry grows, the need for digital marketers' professionals also grows. Once you learn digital marketing then there are thousands of career options that will be open for you. With time your skills and experience in this field will be increased and parallelly your demand, designation and salary also increase. In just 2-3 years you will be earning a bomb amount of salary.

• Keep a check on your start-up
If you are planning for a start-up and want a strong foundation for your business then there is nothing that digital marketing cannot help with. And when from the beginning you know how to promote your business and how to target your relevant audience then there is a high chance that you might hit the right spot.

In my opinion, digital marketing is a future proof career opportunity. So, start your digital marketing career today!!