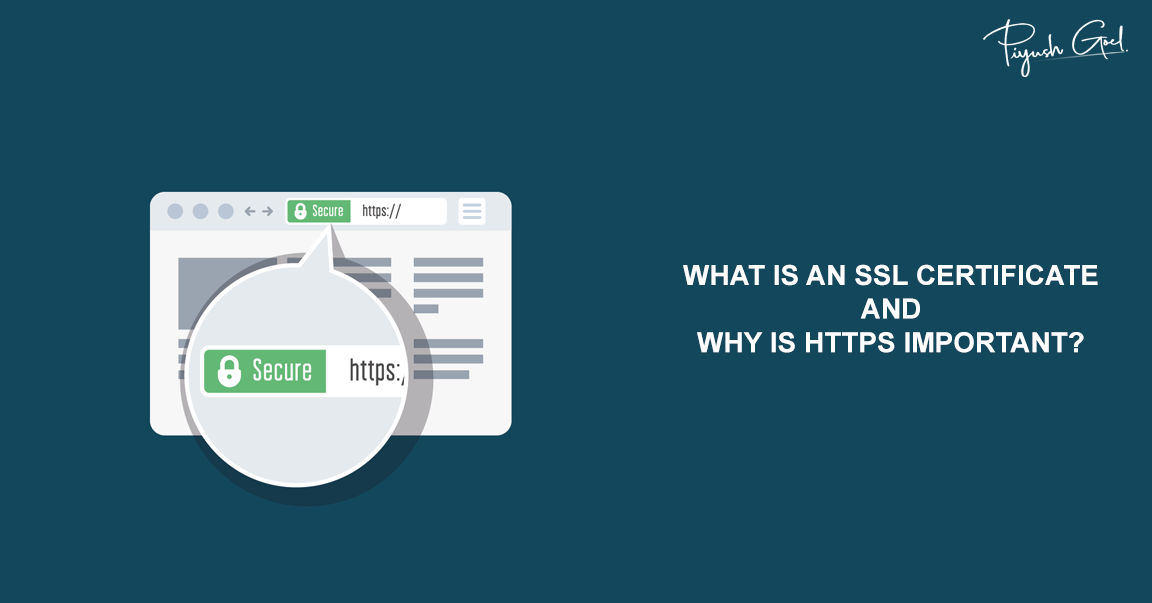 SSL certificates help websites move from HTTP to HTTPS platform, which means a more secure version. An SSL certificate makes SSL/TLS encryption possible as well as holds the public key and the website's identity. SSL is essentially a protocol that helps encrypt internet traffic as well as verify the server identity.

Components of SSL Certificate
SSL certificates are inclusive of the following:
Domain name – The certificate is issued for a specific domain name.
Details – Person, organization, or the device that it was issued for.
Authority – The details of the certificate authority that issued it.
Digital Signature – Digital signature of the authority.
Subdomains and date – The associated subdomains and issue date of the certificate.
Public Key – The private key is encrypted and not disclosed.

After we understand the components of the SSL certificate, is now time to understand HTTPS?

What is HTTPS?
Hypertext transfer protocol secure (HTTPS), it is a better and secure version of Hypertext Transfer Protocol (HTTP), it is the primary protocol that helps send the data between a web browser and a website. HTTPS increases the security of data transfer by adopting encryption. This is particularly important when the users are handling the transition of sensitive data, for instance, bank login, account, email service, or payment portals. Websites that require login credentials must definitely use HTTPS. In modern web browsers, the websites that use HTTP instead of HTTPS are marked differently. Having understood the meaning of HTTPS, let's find out why you must use an SSL certificate for your website.

Benefits of Using an SSL Certificate

● Protects your confidential data
SSL certificate helps protect the client-server communication. When you install SSL, each bit of your information is encrypted, it can only be deciphered by the recipient. IDs, passwords, credit cards, etc., require SSL certificates for protection.

● Helps you verify Your Website
SSL certificate extends authentication to the website. There have been cases when people have lost thousands of dollars due to their association with fake websites, this has been the reason behind the introduction of SSL certificates. When you have your SSL certificate installed, you are bound to go through a verification process that is devised by CA (Certificate Authority), the CA verifies your identity as well as your organization's identity. Such verifications are the ones that ensure no imposter is allowed to sham.

● Obtain Better Search Ranking
Google regularly updates its algorithm, in 2014 it gave an upper hand to HTTPS-enabled websites. Digital Marketing Company understands the importance of HTTPS and hence ensures that the client's site is protected with an SSL certificate.

● Satisfy the PCI/DSS norms
PCI compliant website is the only one that is allowed to receive online payments. Hence, if you have an e-commerce website, you must ensure that you are well aware of PCI/DSS requirements. SSL certificate installation stands as a primary requirement for the payment setup.

● Build your customer's trust
Authentication and encryption are part of the SSL certificate, another important factor that leads to the installation of an SSL certificate is the customer's trust. The easy demarcation between HTTP and HTTPS makes it possible for even a layman to identify which is a secured network and which one has chances of a breach. SSL certificate is only extended after proper verification, hence, it is important that you install the SSL certificate.

To rank better in Google, it is important that you have an SSL certificate installed. If you are running your website or planning to run one, then keep in mind that SSL certification is a must.